TESTIMONIAL 1
I came across Slimming Sensation very late one night after trawling websites for weight loss, diet tricks, detoxes, and miracle exercises. I was exasperated, I had Yoyo'd with weight loss/gain and diets for years, battled with bulimia, I wasn't even sure what a normal person ate anymore or what a regular 'diet' was. I wanted a normal life, lifestyle and normal diet.
I started boxing classes, and by the second one knew it was for me, but also felt so self conscious about my body that I wanted help. I didn't want to turn to shakes, some low calorie diet or prescription tablets. My desire was no longer just about weight loss specifically, my goal was to feel 'normal'. I started researching liposuction and 'sculpting' alternatives. This is how I came across Slimming Sensation. It seemed to tick all the boxes - although I was dubious. I researched it extensively before calling Beata. I only decided i had nothing to lose by giving it a go when she also guaranteed a minimum loss of 2cm or the session is free. I went and never looked back. I lost 10cm on my first treatment. Beata was so welcoming, professional, and most important to me - perceptive. She answered all of my questions, went through the process, what it would feel like, tips to help maintain the loss. Anything I asked for she would help me with - and as said, she is perceptive - to know when not to offer advice or ask questions. This was all nearly 12 months ago now. I still go for sessions on occasion, to 'sculpt' an area. The centimeters, weightloss and change to my body shape is amazing. But more importantly with these treatments, her encouragement and recommendations, I feel normal and happy. It all slotted into place. I have a normal life, I don't worry about what I eat because i look after myself.
I no longer feel alien in my own skin. I'm not anxious about how i look or how i think others think i look. As a treat to myself I go now before a wedding or event. It's like going and getting your hair done. You leave feeling amazing.
I recommend Slimming Sensation to anyone and everyone. This changed my life.
Katherine Scully
TESTIMONIAL 2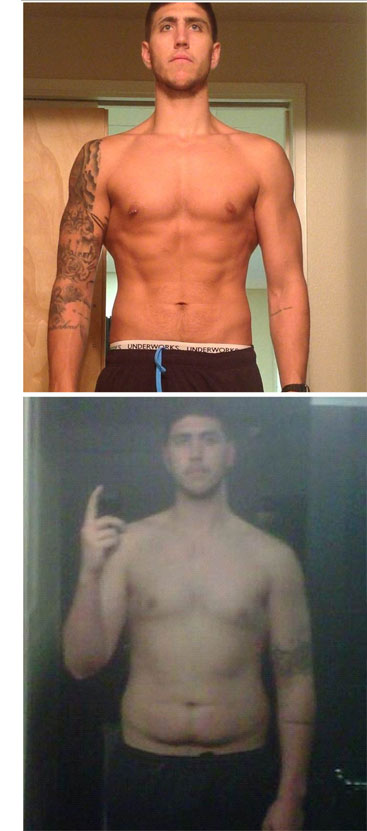 My names Chris Patton and I was a client of Slimming Sensation about six months ago, I went into slimming sensation having mixed feelings about what it could do for me, could I really loose inches around my weight in only a matter of 45 minutes? I had already achieved some weight loss on my own but could not get rid of the remaining fat sitting on my hips and lower stomach, no matter how much I ran, no matter how many crunches I did, no matter how good my diet was the fat wasn't leaving me, after all it did build up over the course of about 10 years so I wasn't all that surprised. In the first sitting at slimming sensation we focused on my lower abdominal region and I lost a little over 2 inches in my waist in less than an hour, I was shocked. I got my answer and that was that slimming sensation actually works. I was so pleased with my results I came back two more times and by the last time there was no more fat to be treated. Slimming sensation is an easy pain free way to get rid of fat in the most stubborn places on your body, I highly recommend it to anyone.
Chris P
TESTIMONIAL 3
I came across the Slimming Sensation website and Facebook page, after extensive Internet searches about ultrasonic fat cavitation, for research on non-invasive fat loss treatments.
I chose Slimming Sensation after a really honest and productive conversation with Beata about the treatment. She was very professional, genuine and did not pressure me to make any quick decisions. Furthermore, it was clear that she was very experienced and stressed the importance of choosing an experienced specialist. Compared with other 'beauty salons' who were boasting different fat cavitation treatments, Slimming Sensation was also more affordable and economical over time through the package deals available. I was also impressed that fat loss results were also guaranteed - or the treatment redone - in a strong commitment to meet client expectations.
I think it's really important to increase advocacy for Slimming Sensation, because SO many beauty salons are advertising cheap fat cavitation now. The industry is now saturated with ultrasonic-based fat reduction treatments and women are going to be taken for a ride.
I have many disappointed friends that did not do their research. They have bought sessions on groupon and dailydeals from salons to save money and have been very disappointed with the lack of results, lack of experience and poor etiquette of staff. Because of these experiences they go from being skeptical to actively speaking out against the treatments because they believe it is a scam.
Hopefully the launch of your new website and Facebook will increase interest, generate more clientele and stop women from seeking treatment from unqualified people in the beauty industry.
Lisa from Melbourne
TESTIMONIAL 4
Hey Beata I just had my 3rd slimming treatment today and thought I really didn't thank you enough. I have lost 8 cm from my tummy already!!!! I was so happy all the way home, thirsty, but happy! We have 2 more treatments so I'm looking forward to how much more I can loose. Your studio has such a welcoming peaceful and calm atmosphere going on I didn't want to leave, I was that comfortable. You spoke to me, giving me advice and telling me about healthy nutrition and the little lifestyle tricks that's have huge impact on weight. We had a lovely conversation keeping me occupied the whole time. I just wanted to tell you how much I appreciate your service. Thanks so much Beata.
Michelle from Melbourne
TESTIMONIAL 5
Slimming sensation help me reduce the visibility of my tummy area and Beata was quite friendly and help full when she was doing the treatment.
Thanks Erusha ' Melbourne
TESTIMONIAL 6
Hi I went to Slimming Sensation to help shift & tone some stubborn areas (hips & upper thighs) that were not responding to diet & gym workouts. The results were fast, noticeable differences were obvious after the first treatment and then refined after the next few treatments I underwent. The treatments helped boost my confidence & feel more comfortable in my clothes & I have managed to maintain the results with continuing diet & exercise but would not hesitate to return if I need to sculpture my figure. I great treatment option that is pain free, convenient, safe with an understanding friendly practitioner. Thanks Beata
Sue - Melbourne
TESTIMONIAL 7
I went to see Beata because she was personable and friendly. She assured me the process was quick and painless. Whilst there, she gave me a free facial rejuvenation treatment and explained how I could do it myself. The location had a sense of luxury and pampering which is always good. Beata cares about her clients and is interested in them and it shows.
David Bald - Melbourne
Please note actuall fat loss results vary from person to person, depending on your body type, amound and composition of body fat, as well as overall health and lifestyle.